GoPro HD HERO3
Silver Edition boasts high performance specs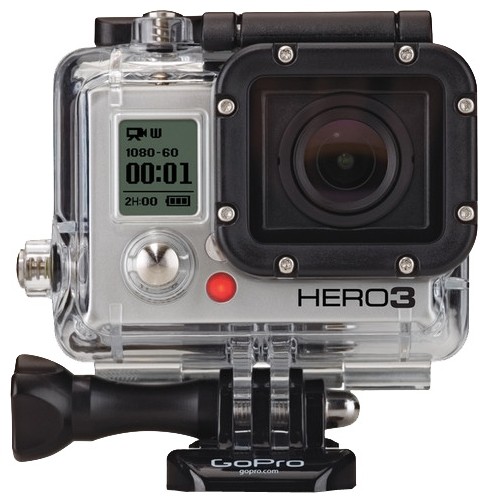 Overview
Smaller, lighter, mightier still.
Even as GoPros become smaller and lighter, their performance continues to improve. It's never been easier to capture the incredible experience that is your life.
GoPro App
Control. View. Share.
The GoPro App turns your smartphone or tablet into a convenient remote control for your camera. Preview and play back your photos and videos, then share your favorites via email, text, Instagram™, Facebook® and more.
Features
| | |
| --- | --- |
| | USB 2.0 |
| | 11 |
| | auto |
| | microSD |
| | CMOS |
| | none |
Customer reviews and ratings
I like it!

I'm a professional videographer and photographer so I'm used to the technical aspects of setting up cameras. However, this was a cinch. I followed the directions to set up the camera and apply the software update from the web site and have had NO issues at all with this camera. Photos, video, wifi remote, all works fine as advertised. I also am able to hook up my camera and suck it all into my Apple iMac without a hitch. I've only had it a few days so I'll update when I work with the photos and videos more and kick the camera around a bit. This is a SMALL camera and I'm going to love keeping this in my pocket in addition to using it for POV and aerial applications. The low cost vs. high quality of this unit is hard to beat.

not below zero

I've had this camera since December and have taken it on 3 snowboard trips since then. Just like almost every review on here, my camera froze (only when being turned on) a few times and I had to take the battery out to reset it. The battery life was terrible that first trip, could only use it for the morning runs and then put it away at lunch. When I got home after that first trip and viewed the footage it was awesome, SUPER clear. I thought the freezing was my fault but found out it was a big complaint. I liked the camera footage too much to return it. On my second trip (about a month later), I brought it again but this time I didn't want to deal with the freezing when turning it on, so between runs I would stop recording but not turn it off while taking the lift back up. This solved the freezing issue, but the battery died so much faster. After that I decided to buy some more batteries (got the Wasabi ones, AWESOME deal btw). So on my most recent trip (about 2 weeks ago), I brought all three fully charged batteries and didn't turn the camera off all day (except changing out the battery when it died), and the three batteries lasted me the whole day (about 7 hours of snowboarding: only recording about 2.5 hours of that).

All in all, this is an amazing camera that takes some awesome footage when working correctly. I know its expensive and I shouldn't have to do these little things to make everything run smoothly, thats why I took 2 stars off the review. I updated the most recent firmware that was released a couple of days ago, but haven't had much time to play around with it. I'm going on my honeymoon in July and going to be doing some snorkeling. At that point switching out the battery isn't going to be an option, so we'll see how it goes. Hopefully all problems will be fixed by then

dissapointment

After doing the GO PRO update, I took 5 different videos and all were frozen every second. There were no interruptions in audio, just the video was broken and frozen. This product is a piece of junk.