Nikon D4
Seeking to offer uncompromised performance in both video and still photography, the D4 is a brand new camera fitted with a new 16.2-megapixel FX-format sensor of unprecedented speed, size, resolution and sensitivity.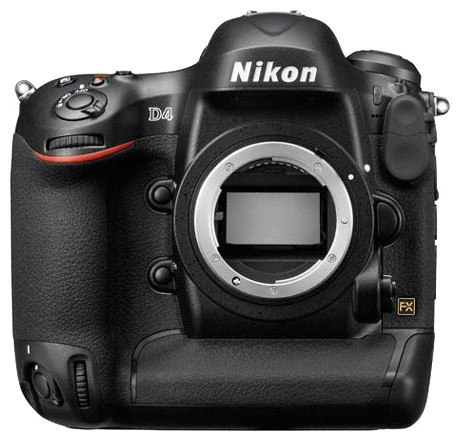 Overview
Enter the new flagship of Nikon's D-SLR lineup: D4. Engineered for professionals, D4 strikes an ideal balance between resolution, sensor size, image processing and ISO range. Its newly designed FX-format sensor and EXPEED3 processor enable image capture up to 10 fps with full AE/AF performance and Full 1080p HD video. Combine that with cutting-edge metering and AF systems, intelligently designed controls, an ultra-rugged body and multiple connectivity options, and D4 liberates the world's top-notch photographers and multimedia artists like never before.
Features
| | |
| --- | --- |
| | audio |
| | TIFF |
| | 1 |
| | 3:2 |
| | 16.6 |
| | Nikon F |
| | 11 |
| | select from a list |
| | Compact Flash |
| | CMOS |
| | reflex |
Customer reviews and ratings
Camera for me

I jumped from D80 to D4. I am not a pro photographer but definitely serious one. Just wanted to share my opinion in using this camera for first 48 hours of using it. Biggest surprise was it feels really light in your hand for the size of the body. Before purchasing this I had concern of its weight but I am totally satisfied with its weight distribution in my hand. A pleasant surprise. Great camera in low lighting something I need more than anything. I think spot metering in low lighting works much better than matrix for color rendering and overall exposure work. The focusing is very fast and in low light situation it works great. Love it. The auto face recognition works great and helps with excellent exposure. Love this feature. I also needed much quiet shutter noice for my work than this camera produces. A little bit disappointment there. This camera is justified only by using great pro lenses. I also wished it had some cover over its LCD display. Button positions are perfect. Love shutter release delay, if any. It gives me better control in taking pictures and something I can count on. If you are patient in taking pictures, love low lighting photos and very serious with photography then this camera may be the best choice. I think for $6K price tag, Nikon should have added XQD card with reader and software.

WHAT a price?!

The camera is great. But you have to be kidding me that the price savings is $2.05. Don't hate the product but the deal stinks on ice.

Great features

The new thumb selectors are so wonderful for my small female hands.

The focus point memory option for changing between portrait and landscape is an awesome addition.

I don't find the size to be prohibitive (I was using a D3S so you may feel differently especially if you are upgrading from a smaller camera).

I do miss the D3S focus selector and the now-missing metering dial (it's a button now), but the configurable range of new buttons make up for pretty much every other shortcoming IMHO.